From Bariloche to Ushuaia hitchhiking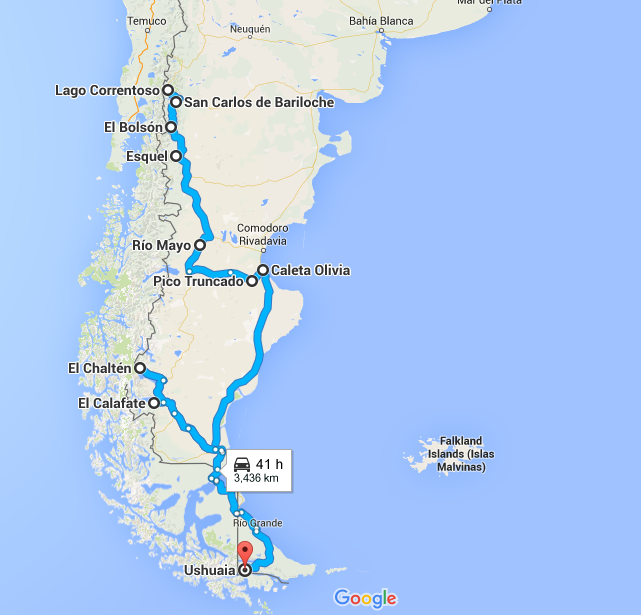 This is the challenge we had spent three weeks with my friend Sarah and we managed it much easier than expected. Here I describe my itinerary to give you some ideas of course, etc.
Bariloche : It is perfectly normal to hitchhike in Bariloche, especially in season when buses do not work. Get out the thumb and have a car that stops in a second, get picked up by our server the day before or be turned away by 15 Israeli … yes, yes, all this happens in Bariloche!
Bariloche-Lago Correntoso : We wanted to go to the 7 lakes and that was our only failure. After trying in vain to go north to San Martin, we decided to go back south because Sarah did not have much time. Three hours of waiting north in full sun and three hours of waiting to the south to finally return to Bariloche after a night of camping.
Bariloche-El Bolson : We left late and did a little bit of road after having waited a lot in Bariloche in the rain.
El-Bolson-Esquel : Very little waiting and two Chilean drivers later and we arrived at Esquel.
Esquel-Pico Truncado : We let fate do that day because we did not know which route to take and whether we would try Highway 40 or not. Finally, we found a car going to Pico Truncado, where I had found a Couchsurfer. A very friendly driver, hundreds of miles and lots of mate later, we arrived safely.
Pico Truncado-El Calafate : A big day, little wait again and three cars later, we arrive at El Calafate in the Couchsurfing of happiness where we will spend in all a week.
El Calafate-Glacier Perito Moreno : The shortest distances are sometimes the most complicated. Two Americans who were going in another direction and who thought that we were hitchhiking with a street dog, a family who decided to stop to do an asado at 11am and a nice couple later we were at the glacier! It took us an hour to return to town, with our famous asado family!
El Calafate-El Chalten: No excuses this time, in such tourist areas, it is better to start very early (around 6am) to be the first ones in the hitchhiker, to arrive at El Chalten early and not to struggle with find a hostel. The advantage in Patagonia in the summer is that it can be light from 5am to 11pm and can therefore make the day very easy! Once again, we are lucky and are recovered by a Bolivian, then two adorable Argentineans (also members of Couchsurfing). With them, we do the tourists, we sleep at the same hostel and we ask them if they can take us back to Calafate a few days later, because the hitchhikers in El Chalten scared us! And it's a yes! We will also go for a little sightseeing with them in El Calafate! Our favorite drivers!
El Calafate-Ushuaia : Yes, yes, we did this in one day. Alice, a friend on a veterinary mission, took us to Rio Gallegos. We then found a car to Rio Grande, which took us across the two borders and took the ferry. Very very easy all that. A truck later and we arrived at Ushuaia by a beautiful road. From 6am to 10pm, it's a hell of a day, but it's feasible!
Ushuaia : We hitchhiked to all the tourist places in Ushuaia. I admit that I am no longer motivated to pay for expensive tourist buses, while it is so easy to hitchhike.